By host - AlaindeBotton
Our century's depictions of love and marriage are shaped by a set of Romantic myths and misconceptions. With his trademark warmth and wit, Alain de Botton explores the complex landscape of a modern relationship, presenting a realistic case study for marriage and examining what it might mean to love, to be loved – and to stay in love. In this discussion, we're resharing some of Alain de Botton's thoughts on this topic from his video here: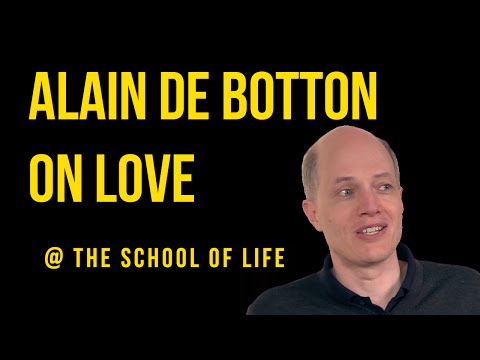 This discussion is set to be extendable. After it expires, the content will remain, but all guests will be removed. After that if any guests decide to join it, more days will be added to the discussion
Host
I believe that romanticism is the single greatest enemy we face for love, and that if we are to learn how to love better in the future, we must give up a lot of the feelings that got us into the sort of relationships that romanticism points us towards.
Host
Relationships can be tough at the best of times…so adding the notion of romanticism to love makes it nearly impossible to keep a relationship solid.
Host
Why? There can be romanticism and still keep the relationship alive. The couple just have to be realistic in their relationship and know that it can't be romantic 100% of the time.
10
more people followed this discussion
Host
Not all people are born to be a romantic. Shedding light that romanticism can wreak havoc to a relationship is just right.
Host
Unlike what romanticism tells us, we are not pure, kind, loving beings simply on the lookout for a soulmate. we are deeply dangerous and most of us are on the edge of insanity. this is not an exception; it's just what it means to be human all of us are only just holding it together.
10
more people followed this discussion
Host
Nobody has everything all figured out. Not in the beginning, anyway. We all have to start somewhere, and whether or not we're born into circumstances that are advantageous, we still build everything from the ground up. We take stabs in the dark as often as we try for educated guesses, and some attempts just look smoother than others.
Host
People change, circumstances change, everything changes.
Host
This is partly true. We are not pure when we are on the lookout for a partner, we want something back from the other person, so that isn't pure.
10
more people followed this discussion
Host
Mothers and friends don't care enough they don't have to deal with you all the time so they don't give you the vital feedback that only a lover deep in a relationship probably a marriage will ever tell you so the information that is most relevant to our self understanding is missing.
Host
It really isn't possible to know someone just by talking or being with him or her.